Categories:
Other Brands
Tod's sure knows how to trigger our bag obsession, because the latest 2 Rings Bag wouldn't get us so excited. Crafted with much love, this handbag looks like a simpler version of the signature Sella Bag. This bag is all about love and it's crafted from one of the best Italian craftsmanship. Can you say no? Can your resist?
The Design
When looking at the 2 Rings Bag, there are few things that caught my mind. First, like I said before, this bag appears to be the updated version of the Sella Bag. Secondly, the line that cuts right in the center reminds me of the recently-released Celine Symmetrical Multifunction Wallet. Without this divine line, this tote will look much more minimalistic, but perhaps less exciting. So it's a clever design.
This tote is fabulous; it's streamlined, minimal and modern. The name 2 Rings is thanks to the 2 big eyelets crafted on the top, which is connecting to the curved handles. The handles are made in bi-color – the edge and the center leather comes in two different shades. Then you will also take the long and thick leather strap home. This leather strap can be used for cross body and on the shoulder carry. The design of the leather strap is the same like the handles – bi-colored.
The modern look is enhanced with the new logo charm. This charm is attached to the letters: TODS, making it easier to flaunt.
This bag is not only gorgeous, but it's perfect for the busy woman or the fashion lady. You will not be disappointed
The Interior
Refined with suede lining, the interior got the space you need. Store all your important stuff inside like your laptop, notebooks, some reserved-clothing, magazines and so much more. There is also a zipped and slot pocket inside.
The Prices And Sizes
Measuring 10.5' x 15.5' x 6' (H x W x D) inches, priced at €1200 euro, $1745 USD, £990 GBP, $2130 SGD, $11800 HKD, ¥171000 JPY.
Where To Shop the Tods 2 Rings Bag?
1. MyTheresa – For now, this handbag is only available here.
More Images And Colors
comnum(0) tbcount(0) tbcount(103)
Categories:
Other Brands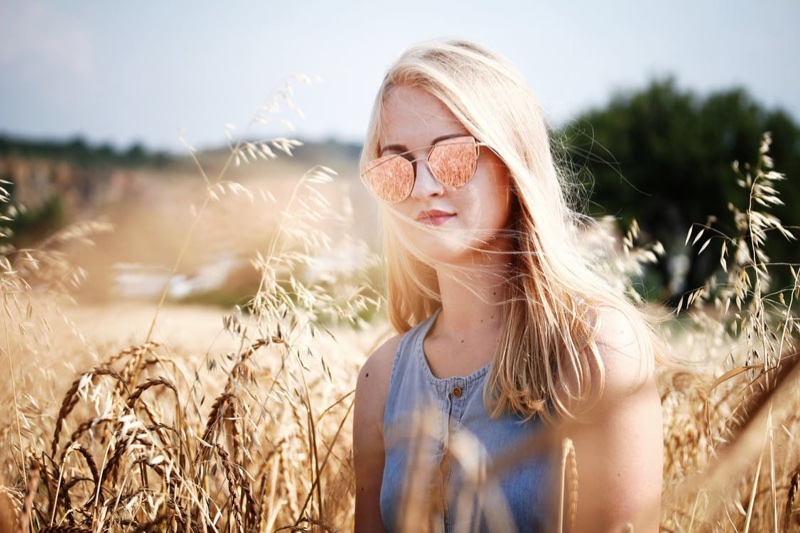 If you're like us, you'll love to be on-trend when it comes to the latest fashions. And for 2018, there will be better and newer fashion accessories to update your wardrobe with. In this article, you will find the latest trends for hats, wallets, purse, heels, handbags and much more. Sunglasses are perfect for a sunny day out. Whether you like cat-eye styles or classic aviators, there's plenty of options. We also look to hats ranging from classic baseball caps to wide-brimmed silhouettes. Of course, matching colors are always on trend. If you have a black dress, you can wear a nice red heel and hat for that perfect pop of color. In this article, we will roundup the top fashion accessory trends for women to wear in 2018.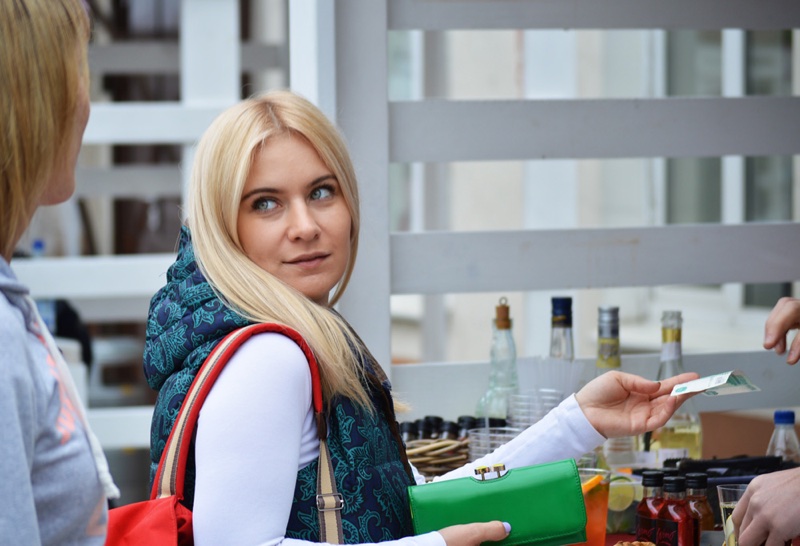 COLORFUL WALLETS
Practically every woman carries a wallet in their handbag. In addition to cash and cards, it's also perfect for carrying must-haves like lipstick or feminine products. There are different types of wallets on the market, but for 2018, embellished wallets are in. Look for accessories with beading, fringe or tassels. But if you want to embellished look without the 3D element, you can look for a print or super colorful style. These wallets include: Emma wallets, Caroline wallets, Lockme wallets, Victorine wallets, Sara wallets, Kinzd wallets and much more.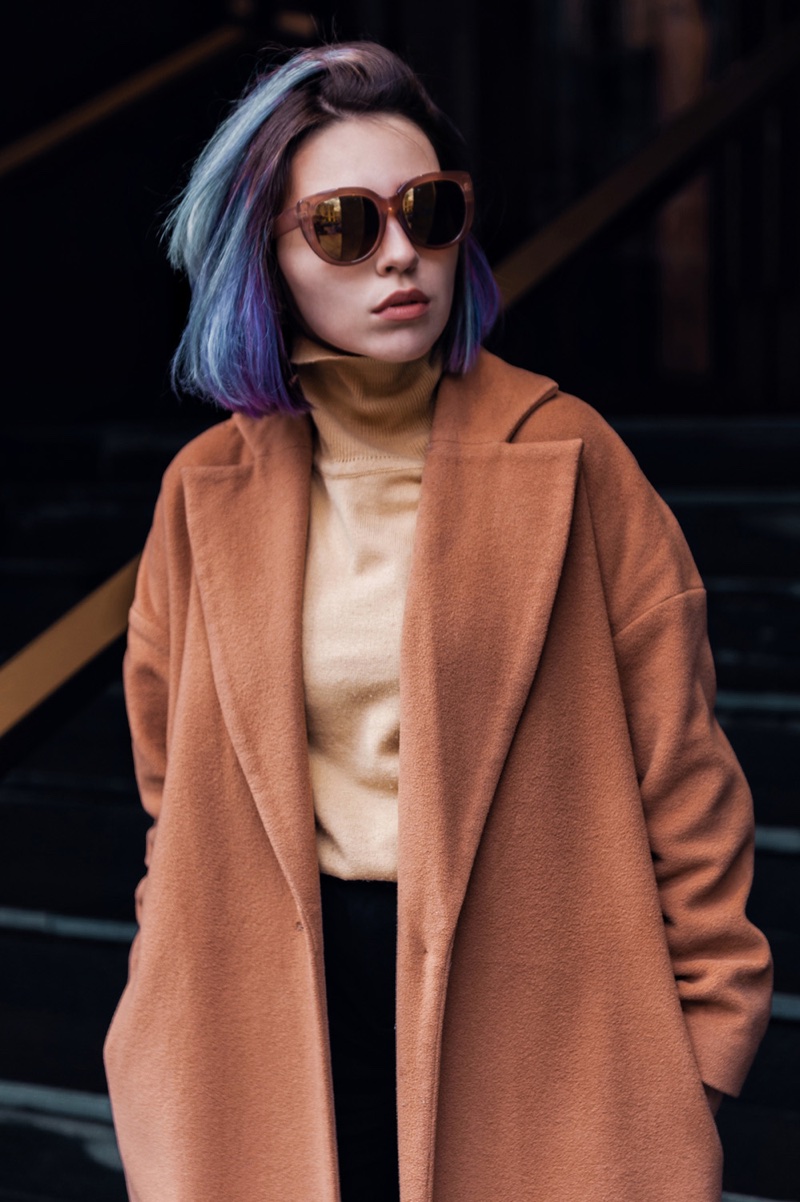 RETRO SUNGLASSES
Who doesn't enjoy a great pair of sunglasses? No matter your style, there's an option for you. As for what's trending in 2018, go for a retro inspired look. For those with narrower faces, small 90's inspired sunglasses will be perfect. If you have a more fuller face, large aviators also work. And if you really want to make a statement, then look to a colorful cat-eye shape.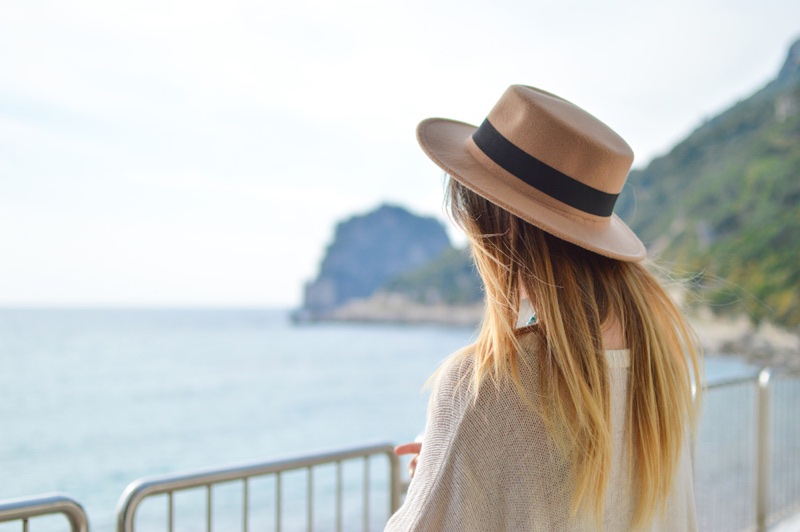 WIDE-BRIMMED HATS
If you want to get away with a bad hair day or add something special to your outfit, a hat should be on your shopping list. So what's on trend for head-gear? Wide-brimmed hats are really having a moment for 2018. There are a variety of them on the market, and they come in different colors and sizes. Choose from a straw hat or visor for those warm weather months. And when it is winter, choose a felt style. If you want to add some color to a simple black coat, rock a colorful hat.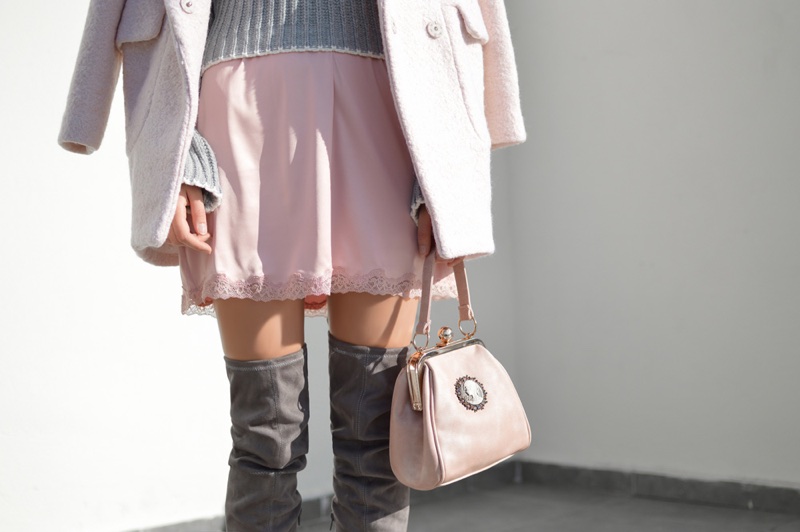 SMALL HANDBAGS
And if you're mad about accessories you will definitely want to know all about 2018 handbag trends. This year, less is more. A small statement bag or clutch serves as the perfect accessory. Overly large bags won't work for this year. If you want a bag for any casual outing, we recommend a crossbody style. And if it's evening time, and embellished clutch serves as the ideal finishing touch. A small bag will allow you to carry all your valuable items including makeup, keys and your wallet.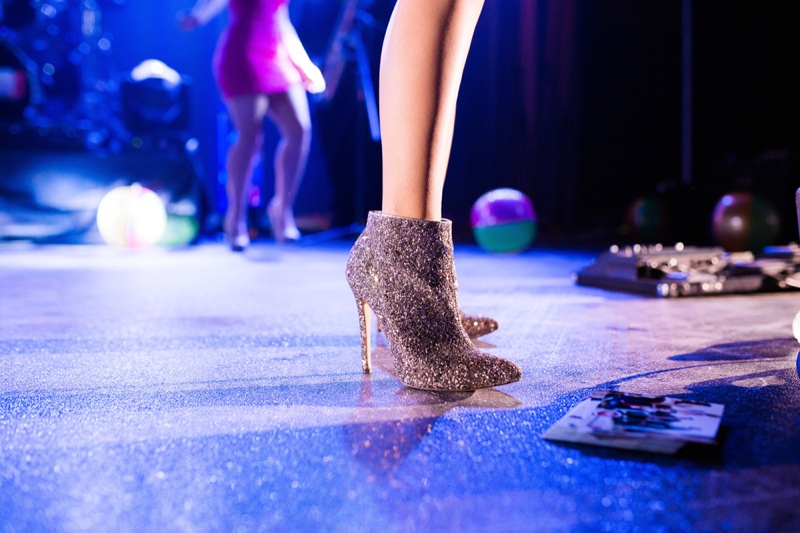 STILETTO HEELS
When it comes to high heels, there's plenty of options out there. But for 2018, the trend for shoes happens to be the stiletto heel. Whether you're wearing a glittery ankle boot or chic pump, look for the stiletto style. They go perfectly with miniskirts and dresses, or are even a way to dress up casual jeans. When heading to a party, look for a sparkly style while a work function may call for a more neutral color. And of course, a black heel can be worn at just about any occasion.
comnum(0) tbcount(0) tbcount(93)
Categories:
Other Brands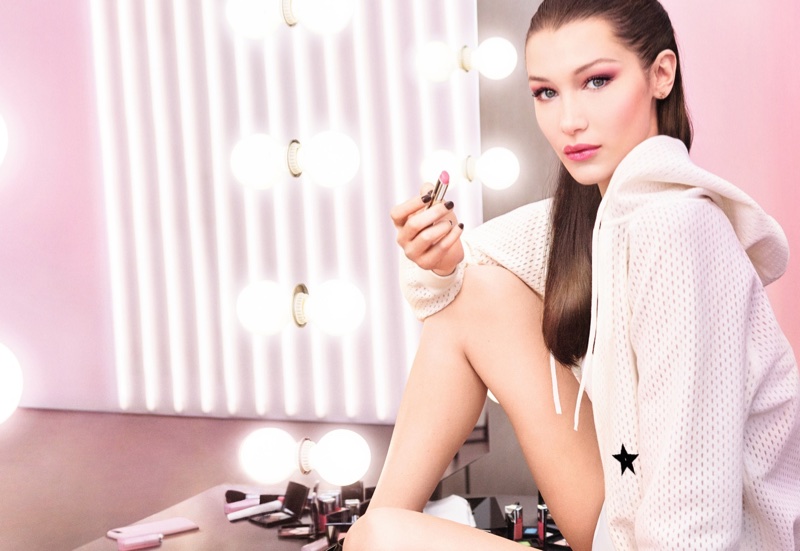 Bella Hadid stars in Dior Lip Glow campaign
Dior Makeup ambassador Bella Hadid heads backstage for a new campaign touting the 'Lip Glow' balm. Captured by Cass Bird, the 21-year-old wears a perforated hoodie while holding on to a pink shade. In another shot, Bella looks ready for her closeup wearing a glossy lip color and winged eyeliner. Dior Makeup Creative and Image Director Peter Philips dreamed up her look for the campaign. Bella also joins Dilone, Frederikke Sofie and Sora Choi for a fun film featured below.
Related: Bella Hadid & Kendall Jenner Rock Cool Girl Style for Ochirly
CAMPAIGN: BELLA HADID FOR DIOR LIP GLOW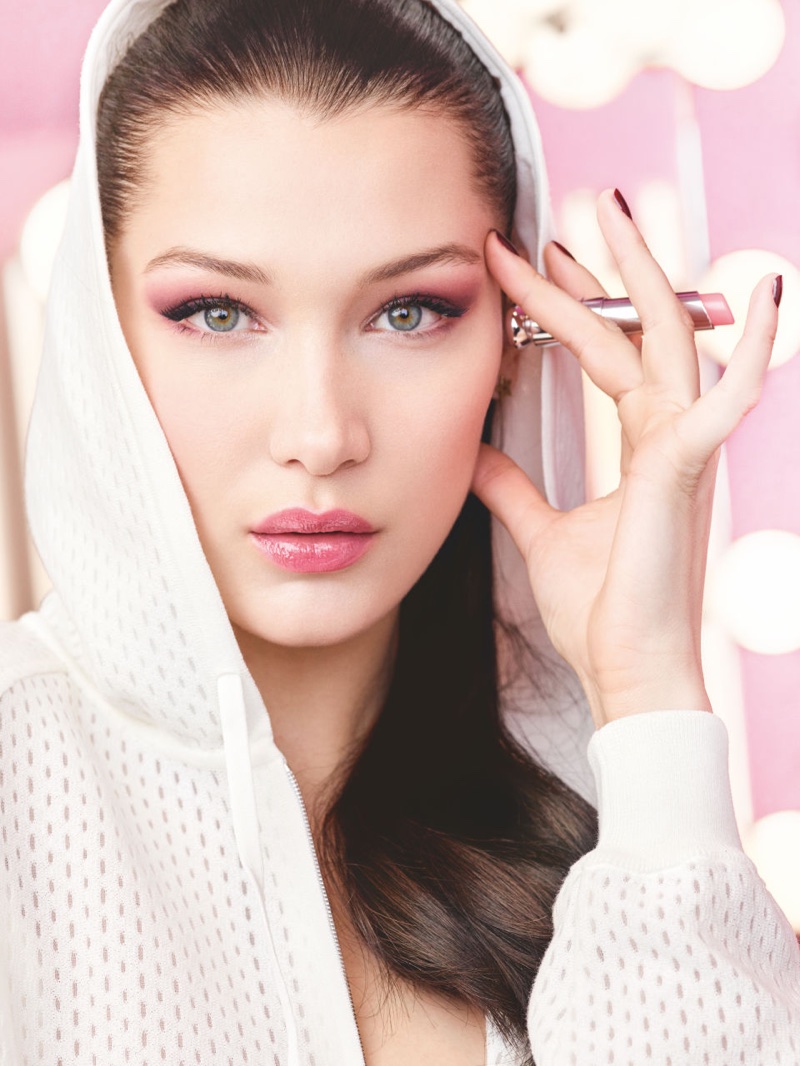 Dior taps Bella Hadid for Dior Lip Glow advertising campaign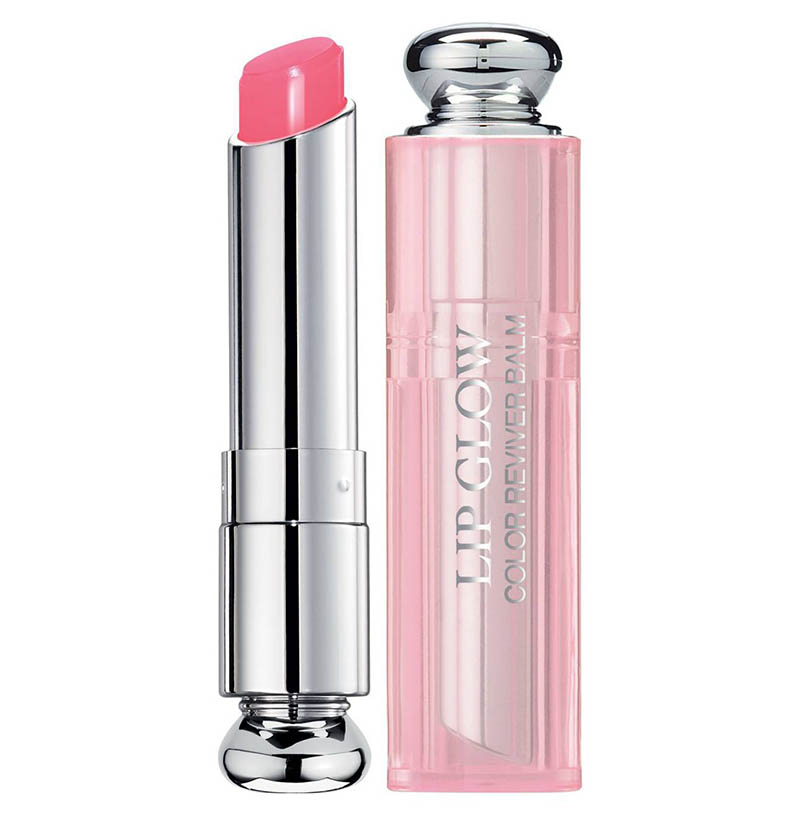 Dior 'Lip Glow' Reviving Lip Balm in Ultra-Pink $34
This lip balm will enhance natural color with a moisture that lasts.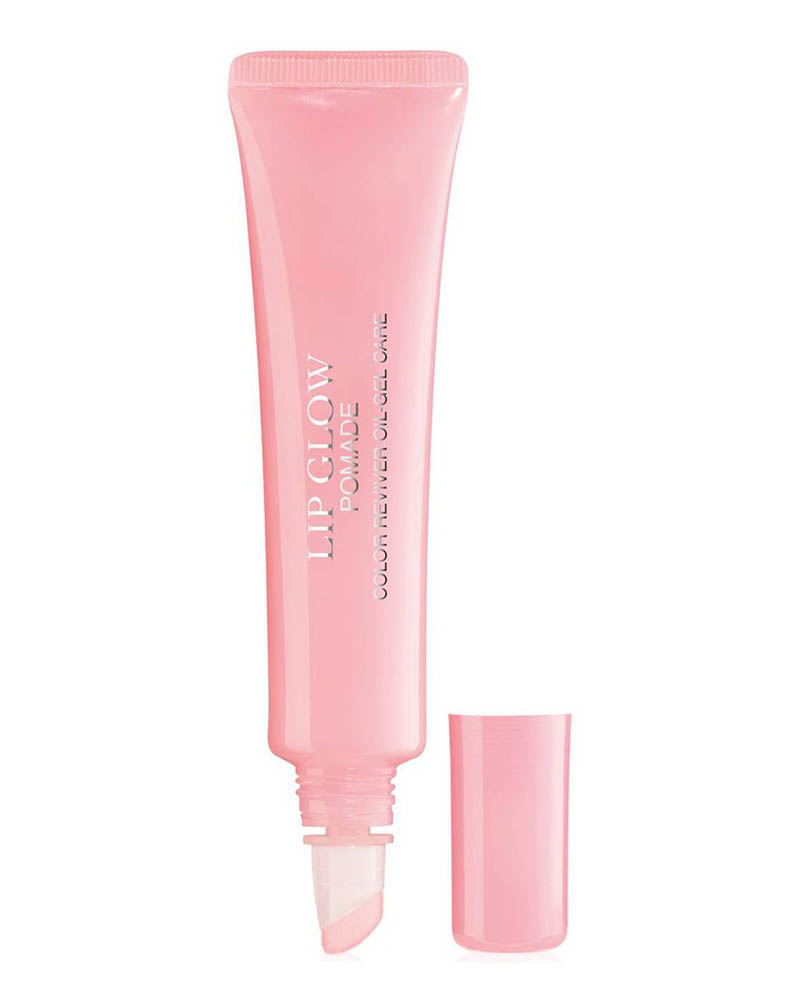 Dior 'Lip Glow' Pomade Color Reviver Instant Oil Gel Care $33
This pomade aims to provide intense care with the revival of your natural lip color.
comnum(0) tbcount(0) tbcount(94)
Categories:
Other Brands
For the Cruise 2018 Collection, Chanel introduces two fresh Backpacks. These bags are not presented on Chanel's official website, but they're available at your local boutiques. And while the design of the bags is quite busy and sophisticated, there is something about the looks that's very attractive, don't you think?
The Design
This Chanel Backpack is not made for the fashionista's that are always playing safe (you know, always the classic colors like black, beige or brown). The design is sophisticated and embroidered with multicolor on the front flap and the top. The majority of the body is crafted in diamond quilting and soft flexible leather. The top is also very unique as it comes with a twisted handle for hand-carry.
There are two sizes available; the large size is made with a front flap pocket. This pocket is embellished with a smooth CC logo. The small size comes with a small zip pouch on the front.
And there is more. Even the double zippers are uniquely designed. Each zipper is attached to a matching charm.
The Interior
Backpacks are made to help you transport a lot of essentials, that's why the leather is flexible (in case you overstuff it). Backpacks are also easier to carry than tote bags or shoulder bags. The interior comes with one large compartment and there is enough space for all your daily essentials and more (like laptops). The small size is more for cuteness.
The Prices And Sizes
Currently we don not have the sizes or the prices of these handbags. Please check with the nearest boutique for more details.
More Images And Colors
comnum(0) tbcount(0) tbcount(86)
Categories:
Other Brands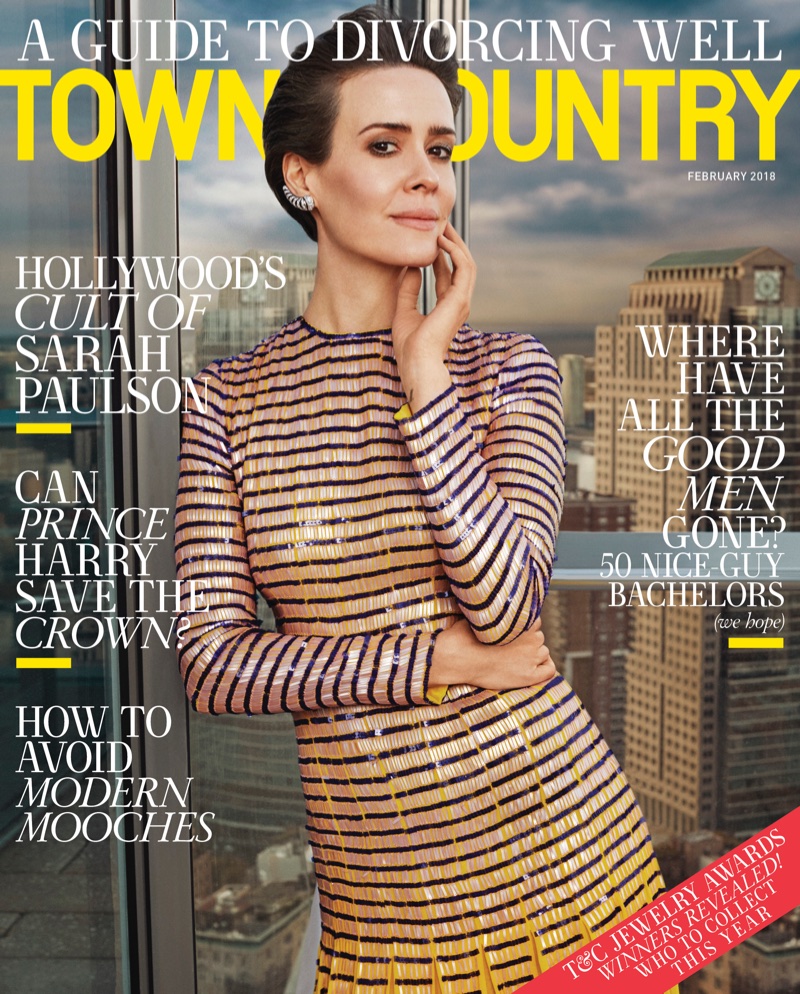 Sarah Paulson on Town & Country February 2018 Cover
Actress Sarah Paulson sparkles on the February 2018 cover of Town & Country Magazine. Lensed by Victor Demarchelier, 'The Post' star poses in a sequin embellished Carolina Herrera gown with Belperron earrings. Inside the magazine, Sarah continues to up the glam factor while wearing looks from the spring collections. Stylist Nicoletta Santoro dresses the brunette in labels such as Giorgio Armani, Dior and Max Mara.
Related: Sarah Paulson Takes On All-Red Fashions for The Edit
COVER SHOOT: SARAH PAULSON FOR TOWN & COUNTRY FEBRUARY 2018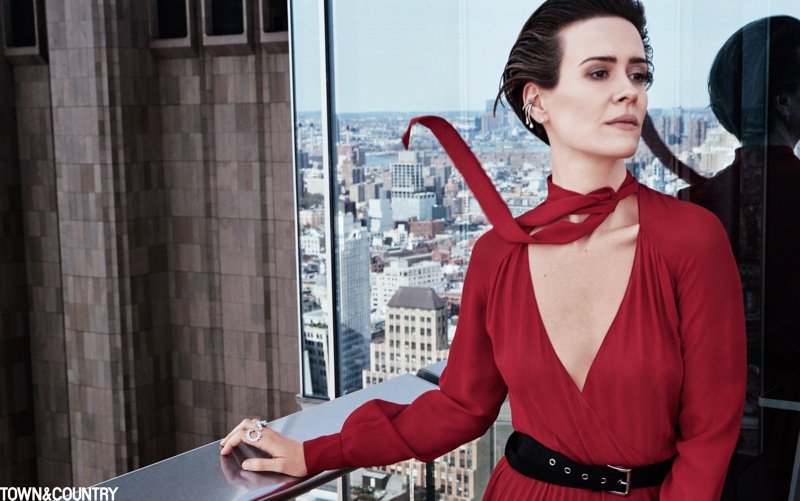 Actress Sarah Paulson poses in red Dior jumpsuit
SARAH PAULSON ON NOT HAVING KIDS
In her interview, Sarah talks about her decision to not have kids.
"I don't want to be torn. I don't want to look at my child and say, 'You're the most extraordinary thing that ever happened to me, but also the death knell.' It was hard for my mother to be everywhere, to come to the school play and make a living, I've always known what I wanted out of professional life, and I didn't want to turn around and go, 'If I had only made the choice to just dedicate this time in my life to me.' It's selfish, but I think the word selfish gets a bad rap."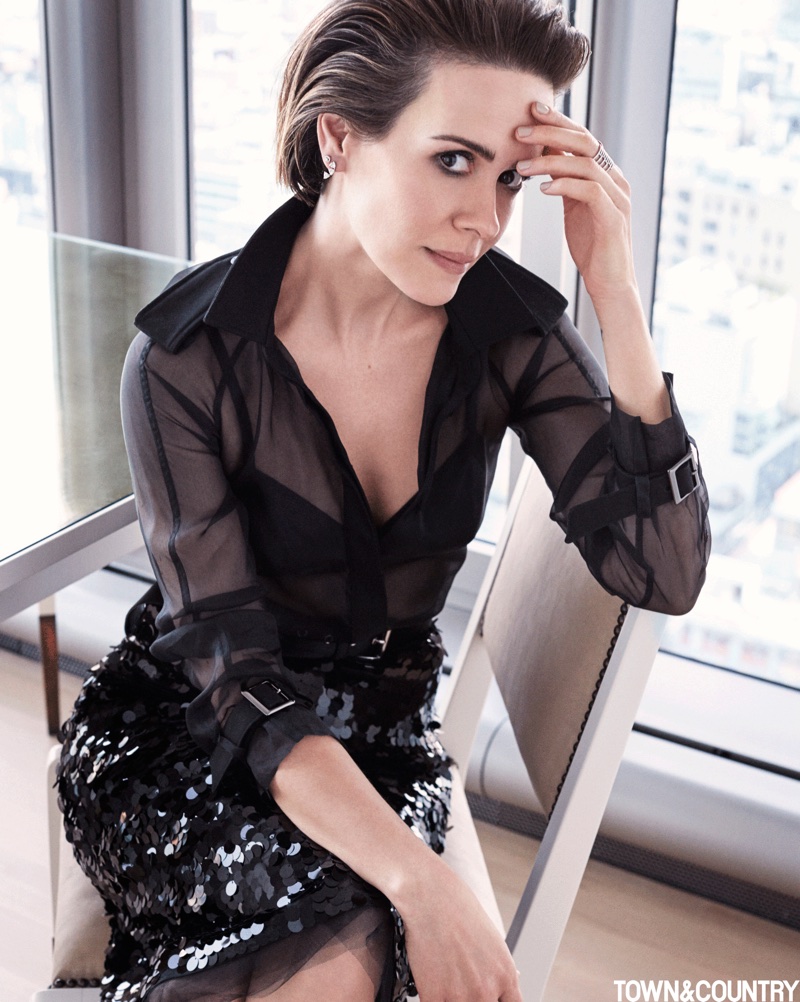 Dressed in black, Sarah Paulson wears Max Mara shirt, Eres Bra and No. 21 skirt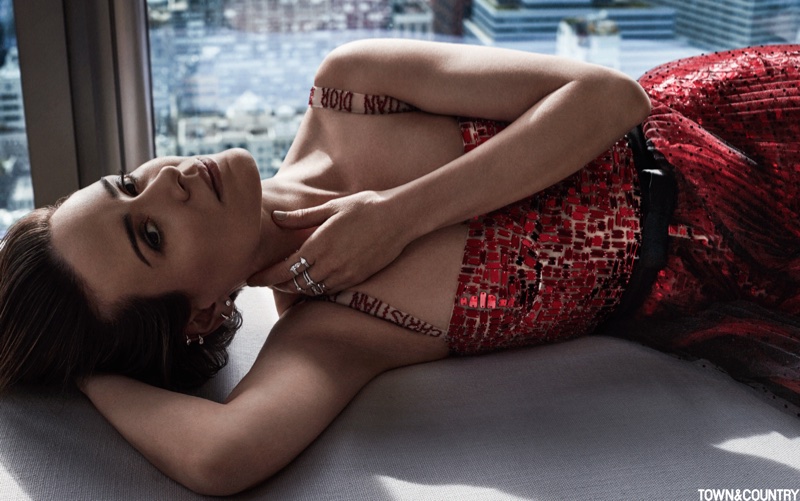 A lady in red, Sarah Paulson wears Dior jumpsuit and skirt with Repossi earrings and rings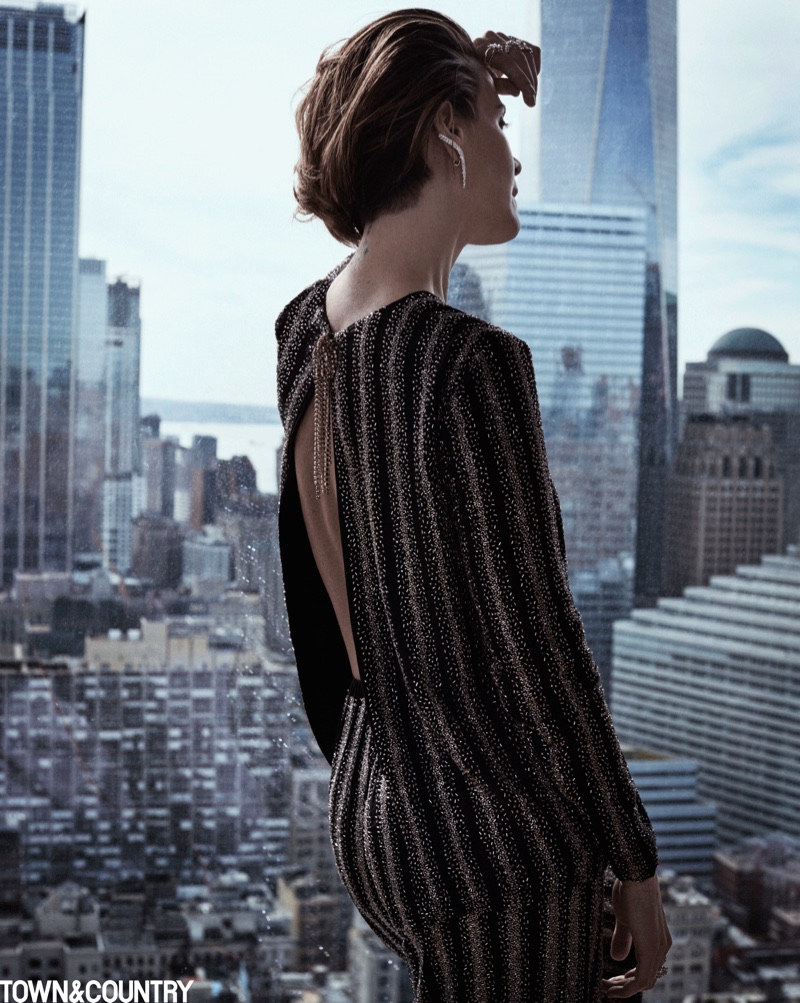 Flaunting her back, Sarah Paulson poses in Dries van Noten shirt and pants with Yeprem jewelry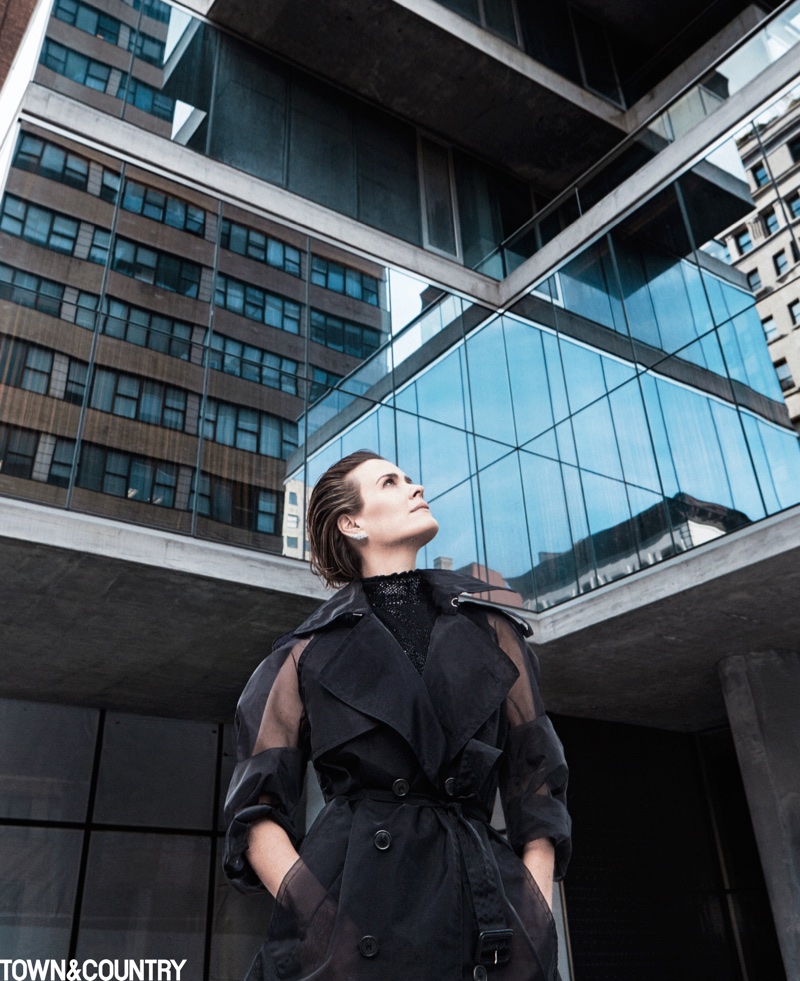 Actress Sarah Paulson poses in Maison Margiela trench coat, Giorgio Armani dress and Yeprem earrings
comnum(0) tbcount(0) tbcount(88)
Categories:
Other Brands
Photo: Pixabay
Each wedding season ushers in a new era of inspiration for brides tying the knot that year, and 2018 is generating plenty of new ideas and gorgeous details to feature on your big day. There is some absolutely beautiful, fantastically romantic wedding inspo currently trending on social media for the upcoming wedding season, and we've got the predictions to guide you in every wedding-related decision you may have to make this year.
COLORS & THEMES
The grass is greener. Gorgeous shades of green are the color of choice for brides tying the knot in 2018, and it's not hard to see why so many couples are drawn to this particular neutral. "Green is the color of life, renewal, nature, and energy, and is associated with meanings of growth, harmony, freshness, safety, fertility, and environment," says Bourne Creative. "The color green has healing power and is understood to be the most restful and relaxing color for the human eye." Trending shades of green can seamlessly be incorporated into just about any reception theme, but will be particularly stunning in the rustic and woodland themes we'll be seeing this year.
Woodsy and rustic. Barnyard weddings and rustic details are still on the rise, but more brides are focusing less on country elements and more on woodland whimsy. It's a subtle distinction, but it helps to think of it as "less burlap, more wooden details." While the rustic trend is heavy on shabby chic, country-inspired details, the woodland trend highlights more forest creatures (squirrels, deer and antlers, owls), pinecones, mushrooms, acorns, leaves, and other forest-friendly features. Brides should focus on hearty floral arrangements rounded out with lots of greens to complete the look.
Late-night experiences. More and more couples are choosing to surprise guests with a late-night treat at the reception to keep guests feeling full and focused on dancing the night away, according to Brides. While the bride and groom certainly fantasize about reciting their vows during the ceremony, the vast majority of wedding planning efforts are invested in reception details, and engaged couples care about making their reception a memorable event for their guests. Finding new ways to delight those guests who really came to party down with you on your big day will be a huge trend in 2018.
Photo: Pixabay
DETAILS
Hanging flowers. Chandelier-style centerpieces are going to be all the rage this wedding season, according to Wedding Wire. These breathtaking arrangements are suspended above the individual tables or as a focal point in the middle of the room, and they are a stunning alternative to the traditional centerpieces we've seen at every wedding we've ever been to so far. The best part about hanging centerpieces is that they can't obstruct dinner conversation between your guests, but they still make a big statement in your reception hall.
Marble and metallics. Savvy brides know that a picture-perfect wedding day isn't just about colors and themes; it's also about textures and finishes. Sequins, rhinestones, glitter, and sparkle of all kinds has been popular in the wedding industry for years, but metallics are growing in popularity, too. Marbled wedding cakes are on trend for wedding desserts, and the unique design is sure to be something your guests have never seen at a wedding before! Brides are even spending top-dollar on marble place settings and dance floors, bringing the cool, clean texture of marble and metallic into even more elements of their decor.
Princess capes. When keeping with the woodsy wedding trend, brides are channeling their inner Snow White with dramatic princess-style capes to drape over their custom bridal gown on the big day. If you're not necessarily interested in having a winter wedding, you'll be happy to know that these capes come in a variety of textures, ranging from winter warm to super sheer. Some capes mimic the effect of a cathedral-length veil or train, and many are embellished with lovely details to amp up the drama for your "I do's."
Photo: Pixabay
GIFTS
Personalization. "From things such as their invites to the band that plays at the reception, couples are paying more to personalize all of the details," explains Kellie Gould, editor-in-chief of The Knot. According to XO Group, custom wedding experiences have more than tripled in recent years, rising from just 11 percent in 2009 to 41 percent in 2016. The trend will continue into 2018, with everything from personalized wedding glassware to custom fireworks shows showcasing the newlyweds' tastes. As you're considering favors for your guests, gifts for your bridesmaids, or even developing your registry, try to think of ways to personalize what you're doing for that little something "extra."
Smart home technology. Speaking of wedding registries, don't forget that your guests will be looking to make a contribution to yours! One of the trending gifts to put on your bridal registry is a smart home technology, which ranges from voice-activated assistants like Amazon's Alexa to artificial-intelligence powered, autonomous home security systems. Make your newlywed nest a smart home by registering for some new tech in 2018.
What wedding trends are you looking forward to the most in the upcoming season? Share your predictions in the comments.
Categories

New Posts

Hot Posts