Categories:
Other Brands
To be honest, when we first spotted the Chanel Grained Calfskin Flap Bag on the Chanel website, we were not convinced. It looked like another flap bag, but this bag is much prettier in real life. The pink edition on the picture explains it all as it is worth more than thousands words.
This flap bag is unique and it's part of the Fall Winter 2017 Collection Act 1. This design is seasonal, which means that you only have one opportunity to get it. Once it's gone, it might never return.
The Design
The New Shoulder Chain
This bag is not only new, but also unique because we haven't met such a design before. We think the look is a combination of the boy bag and the classic flap bag with a new distinctive chain strap.
The body is really similar like the Boy Bag – the center is diamond quilted while the edges are done is smooth leather. The flap bag is streamlined and looks timeless as it's crafted with the new vintage-looking CC interlocking logo.
The flap bag is crafted with streamlined and tight edges (instead of curvy and round). It gives a mix feel of masculine and feminine while at the same time boosting its vintage appeal. The shoulder strap is also very unique because it's not made with the interlocking woven chain strap that we're used to. It's also not crafted with the boy chain. But it's made with big round chains (like big eyelets) connecting to each other and it looks gorgeous. The chain is finished with a adjustable leather strap for the shoulder comfort.
What's more? This bag is made from calfskin leather. This type of leather is durable and strong, there is not much maintenance needed. You can also see on the images that are refined with nice smooth feel.
The Interior
The interior is like other Chanel flap bags. When you open the bag, you will find one large compartment. It's also made with burgundy lining, very similar to the Classic Flap Bag. Inside you will also find a zip pocket and a patch pocket.
The Sizes And Prices
Chanel Small Grained Calfskin Flap Bag
Style code: A91576
Size: 4.9' x 8.3' x 2.6' inches
Prices: $2800 USD, €2720 euro, £2350 GBP, $22000 HKD, $4170 AUD, $4370 SGD, ¥339120 JPY
Chanel Medium Grained Calfskin Flap Bag
Style code: A91577
Size: 5.7' x 9.8' x 3' inches
Prices: $3100 USD, €3050 euro, £2640 GBP, $24600 HKD, $4680 AUD, $4250 CAD, $4900 SGD, ¥380160 JPY, ¥24100 CNY
Chanel Large Grained Calfskin Flap Bag
Style code: A91578
Size: 7.1' x 10.8' x 3.1' inches
Prices: $3500 USD, €3490 euro, £3020 GBP, $28200 HKD, $5350 AUD, $4850 CAD, ¥435240 JPY
More Colors And Images
Instagram @luxnelle
comnum(0) tbcount(0) tbcount(11)
Categories:
Other Brands
Last week we enthusiastically talked about the Diorama Card Holder. This mini item was gorgeous beyond words, because the front looked exactly like the flap bag version – so iconic. Today we want to share the Card Holder from the latest Dior D-Fence Collection and this card holder is more functional as it has multiple pockets.
So introducing the Dior-D-Fence Zipped Card Holder from the Fall Winter 2017 Collection.
The Design
This Card Holder is made to serve as the front is crafted with 6 card slots including the ones on the side. The front is also designed with the new stiff DIOR logo. The back is stunning too because the structure is mirrored from the front, this section also features 6 card slots including side pockets. The back is printed with the house's logo that reads: 'Christian Dior Paris'.
The leather choice is calfskin and it's strong and impeccable leather.
The Interior
And there is more, because the Dior D-Fence Card Holder is all about the functionality. On the top, you can find a zipper. Open it and there is a small compartment to store extra essentials like coins.
The Sizes And Prices
Measuring 13 x 10 cm, the price is not known yet. Please check the SA for more details.
More Colors
comnum(0) tbcount(0) tbcount(12)
Categories:
Other Brands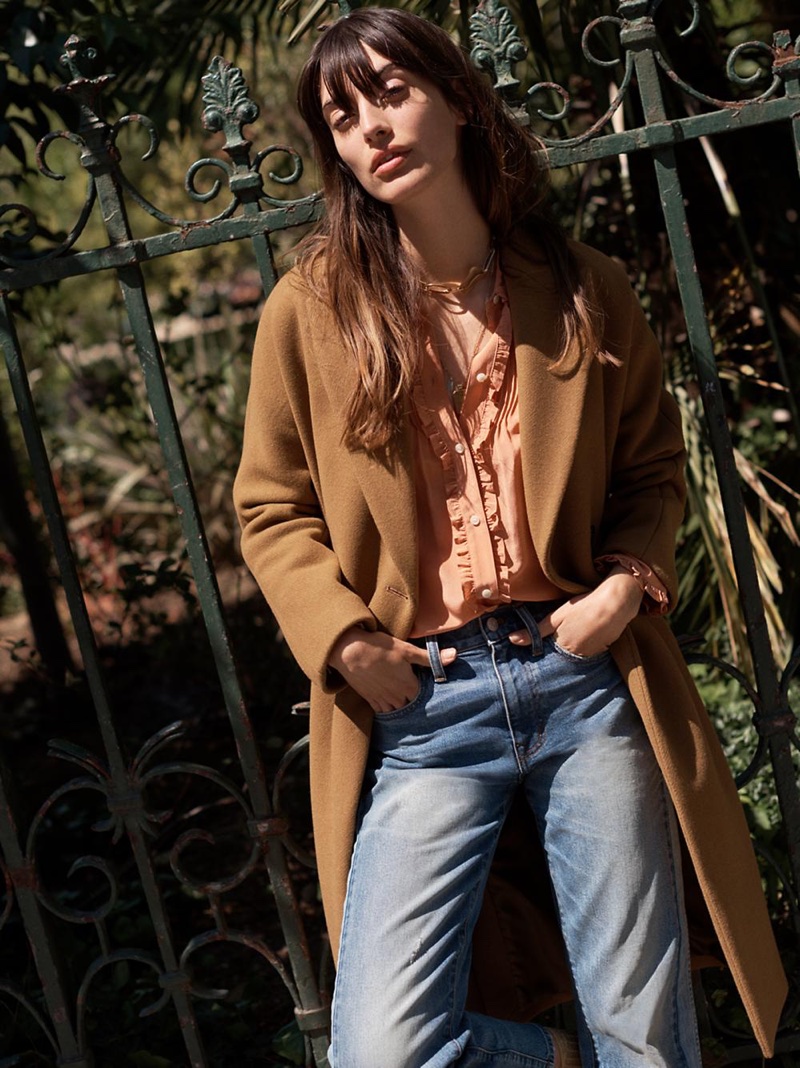 Madewell Atlas Cocoon Coat, Silk Ruffle Blouse and Cruiser Straight Crop Jeans: Pieced Edition
Say hello to the fall season with Madewell's new arrivals. Whether you are looking for denim, coats or blouses; the American fashion brand spotlights casual essentials. From flared jeans to faux fur jackets and button-up shirting; autumn has never looked better. Paired with the season's must-have fabric–velvet–these pieces stand out for the fall.
Related: Intimate Moments | Madewell Spotlights Fall Lingerie Styles
MADEWELL FALL 2017 OUTFIT INSPIRATION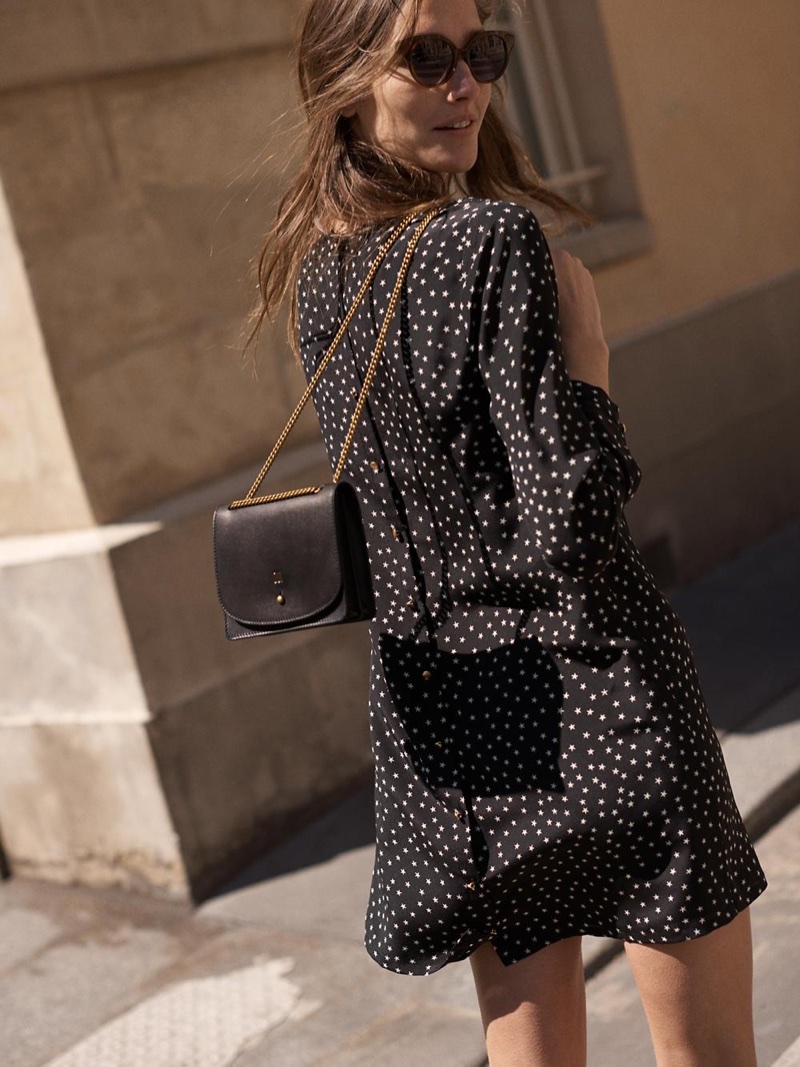 Madewell Silk Button-Back Dress in Star Scatter, Athens Cat-Eye Sunglasses and The Chain Crossbody Bag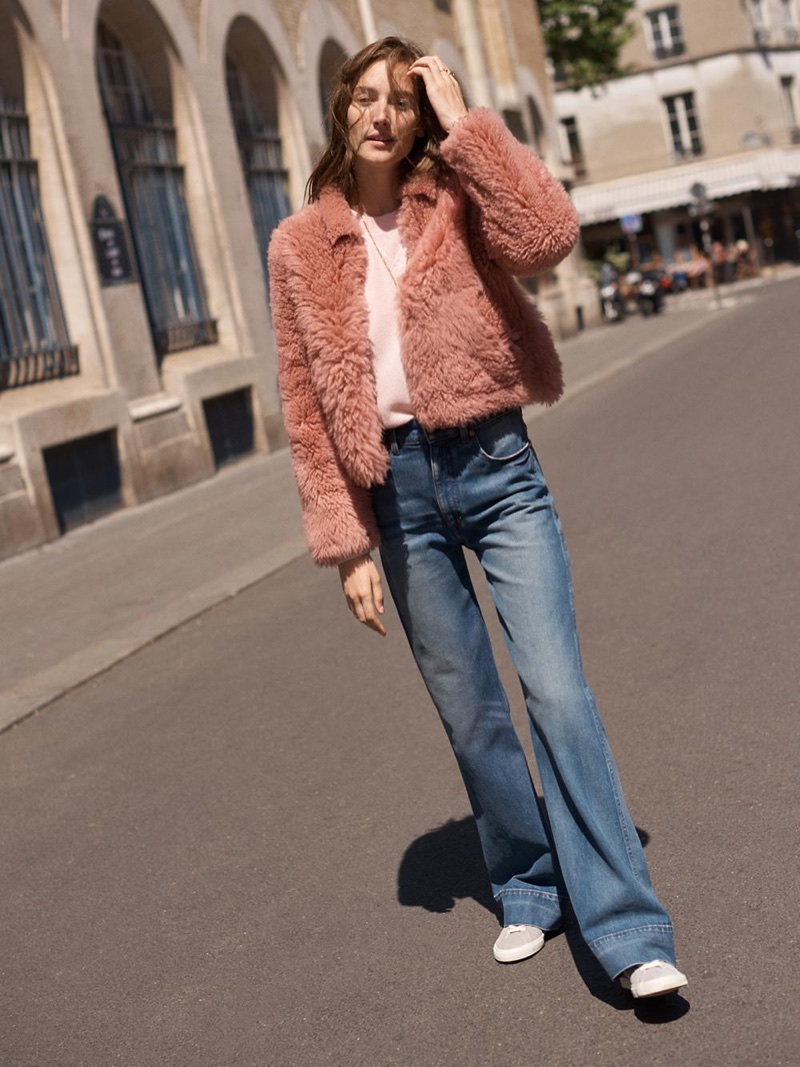 Madewell Pink Mongolian Shearling Jacket, Rivet & Thread Retro Wide-Leg Jeans and Madewell x Veja Esplar Low Sneakers in Suede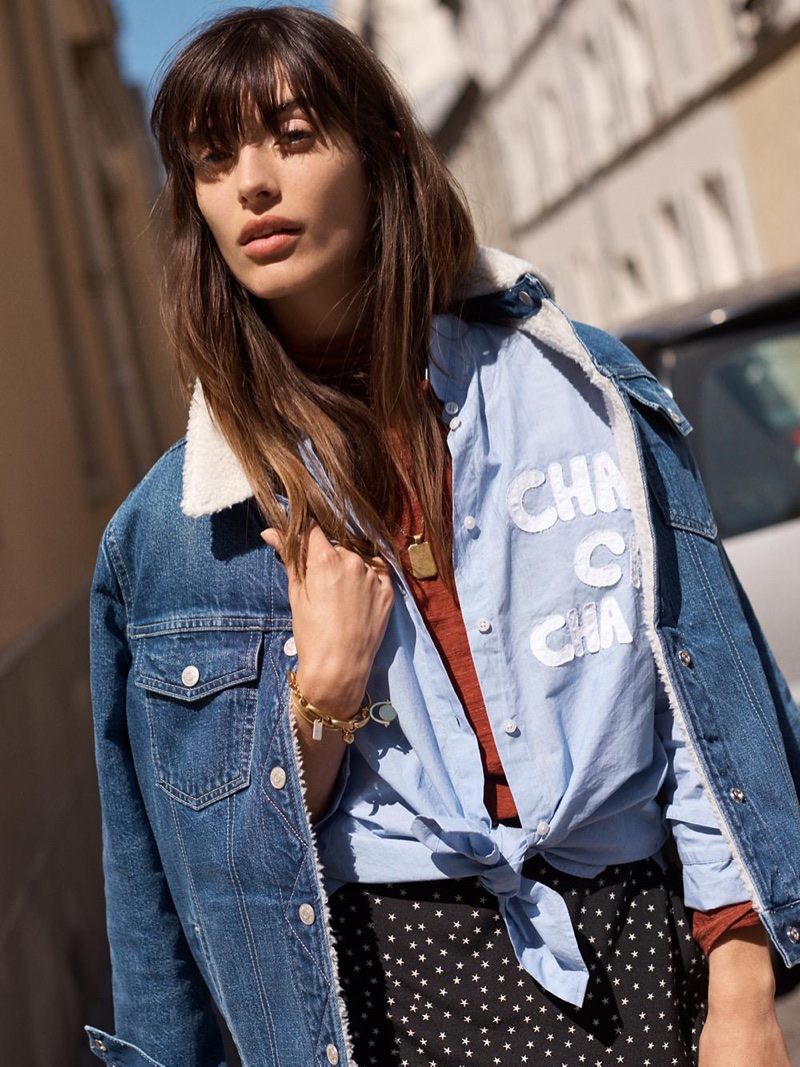 Madewell The Oversized Jean Jacket: Sherpa Edition, Oversized Ex-Boyfriend Cha Cha Cha Shirt and Silk Ruffle-Edge Skirt in Star Scatter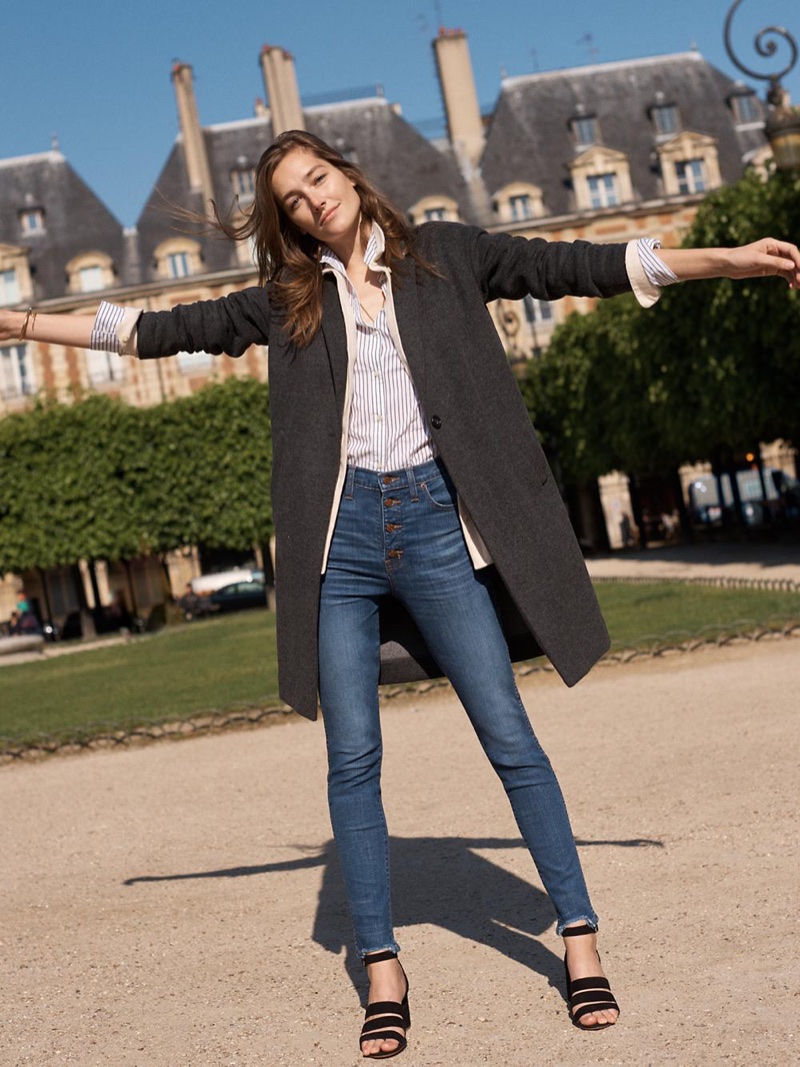 Madewell Monsieur Coat, Flannel Oversized Ex-Boyfriend Shirt: Side Button Edition, Bristol Button-Down Shirt in Stripe, 10″ High-Rise Skinny Jeans: Chewed-Hem Editionand The Maria Sandal in Suede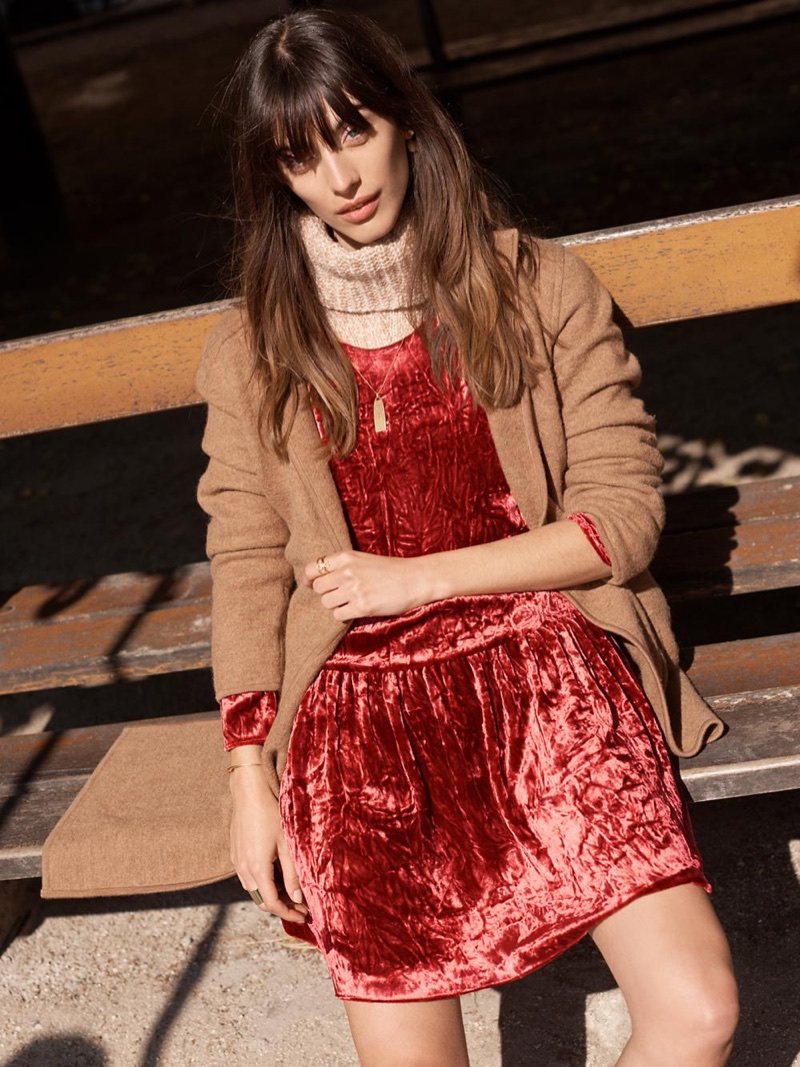 Madewell Camden Sweater-Coat, Velvet Bell-Sleeve Dress and Turtleneck Cutaway Sweater-Vest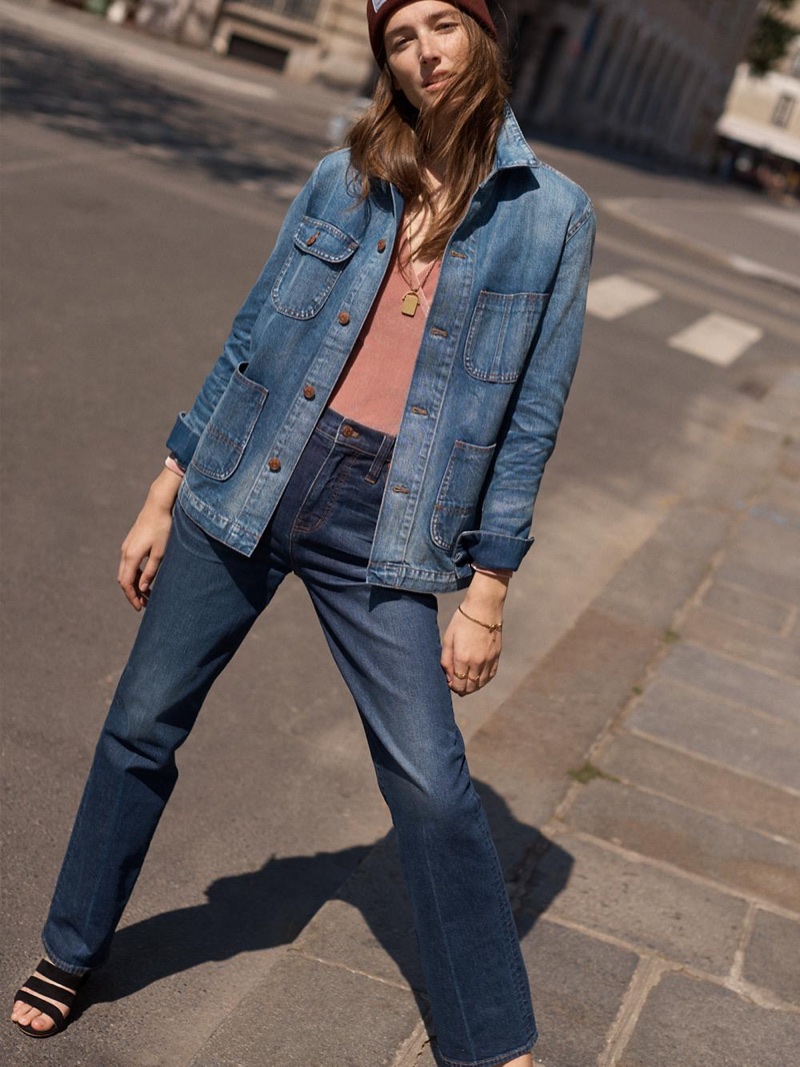 Madewell Denim Chore Coat, Velvet Wrap Bodysuit and Wide-Leg Jeans in Dorset Wash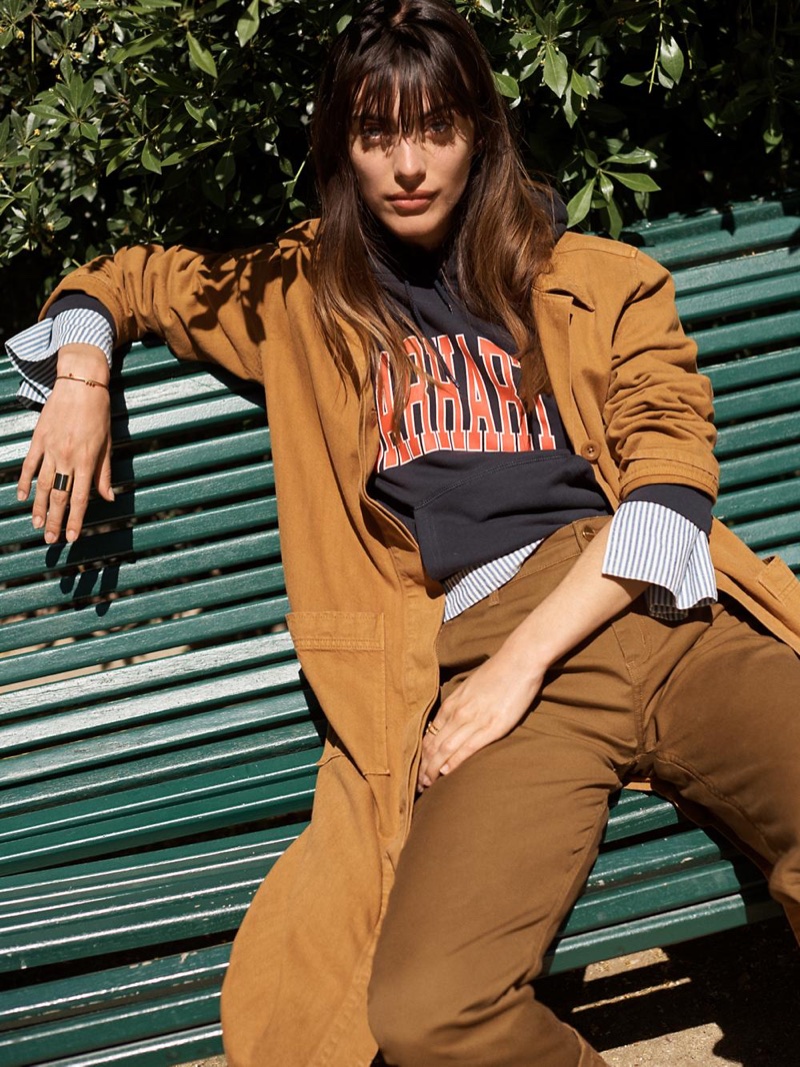 Madewell Denim Duster Coat: Garment-Dyed Edition, Carhartt Work in Progress Division Hoodie Sweatshirt and Convertible Cold-Shoulder Top in Chambray Stripe
comnum(0) tbcount(0) tbcount(13)
Categories:
Other Brands
Is the futuristic bag the next big thing? Are we moving that fast in fashion? Well, we know that a lot of brands have started introducing futuristic handbags including Chanel. Now Louis Vuitton is catching this new wave. So for the Fall Winter 2017 Collection, meet LV's version of futuristic design. It's sophisticated, robotic and so different (for sure!).
The Design
Did this fresh design 'WOW' you when it was first released in the Fall Winter 2017 Ad Campaign or on the Runway? Well, the look is not as chic as the Monogram or Empreinte print, but maybe this design fits best with casual outfits.
The Louis Vuitton futuristic is sophisticated and built with tight lines and streamlined-shape. It's made from embossed Epi leather, which is strong and luxurious leather. This futuristic print has been embellished on the iconic Speedy Bag, but also on the new-signature Twist Bag. There might be more styles available, but the basic principle of the print remains the same.
This futuristic print is built with multiple symbols on the bag. It reminds me of robots in Star wars and the buttons on spaceship. There is also an L and V logo printed in two separated colors. Some parts have remained the same like the original version like the handles on the speedy, the leather zip and the iconic lock. There is even a side-pocket in the exterior for instant-essentials.
The Sizes And Prices
The Louis Vuitton Futuristic print is embellished on different handbags like the Speedy Bag or on the Twist Bag. Each style has their own price tag.
Louis Vuitton Futuristic Speedy 25 Bag
Size: 5.9' x 7.5' x 9.8' (L x H x W) inches
Prices: $2650 USD, $3250 CAD, €1900 euro, £1780 GBP, $22000 HKD, ¥313200 JPY, $3400 AUD.
@Vogue
@Vogue
@Vogue
@Vogue
@Vogue
@Vogue
@Vogue
comnum(0) tbcount(0) tbcount(11)
Categories:
Other Brands
Whenever we see a new tote bag at Prada, we get excited. We think about all the previous tote bag that they have designed, because they were so pretty. For the Fall Winter 2017 Collection, there is another fresh and interesting handbag that you must see. It's called the Prada Box Tote and it's something you've never seen before.
The Design
Recently, Prada has been releasing a lot of 'box' and 'trunk' –inspired handbags. Just look at their Micro Box Bag. The new Prada Box Tote is chic and streamlined. It's designed with smooth and curvy body. The look is a mix of a tote bag and a minaudiere as it features a rare turn-lock closure.
The sides remind me of the Frame Bag, which is solid. The top comes with two long double handles and there is logo engraved on the clasp. The sides also showcase the color of the interior and it's refined with a golden plate.
The interior
The bag opens like a cosmetics box – when it's open it will reveal all the interior. Inside you will find three pockets including one with a zipper closure. The center pocket is crafted with a spring hinge closure (like a clutch or minaudiere bag). It's quite unique considering how its put together.
The Sizes And Prices
Measuring 20.5 x 14 x 13 cm, priced at $4450 USD, €3100 euro, £3050 GBP via Prada boutiques.
More Images
comnum(0) tbcount(0) tbcount(14)
Categories:
Other Brands
Leading model Frida Aasen teams up once again with photographer Asa Tallgard for the October 2017 issue of ELLE Norway. The face of Elisabetta Franchi embraces denim styles for the fashion editorial. Styled by Petra Middelthon, Frida looks casually chic in jeans from brands such as Rag & Bone, Diesel and Replay.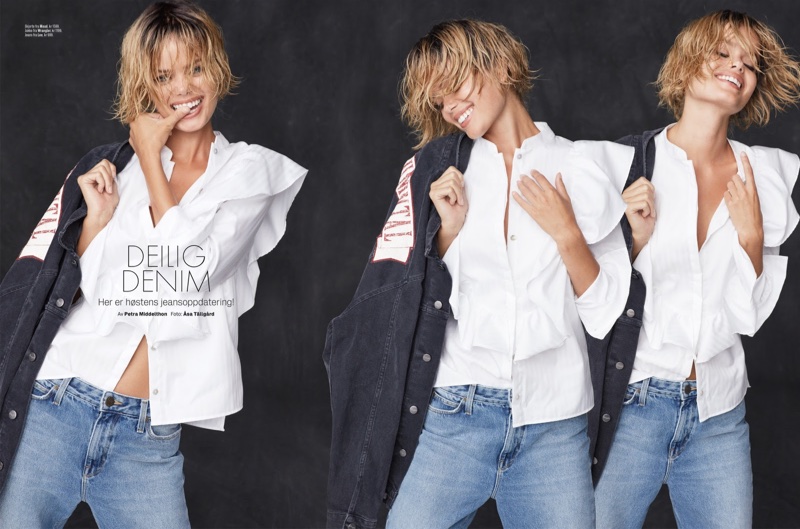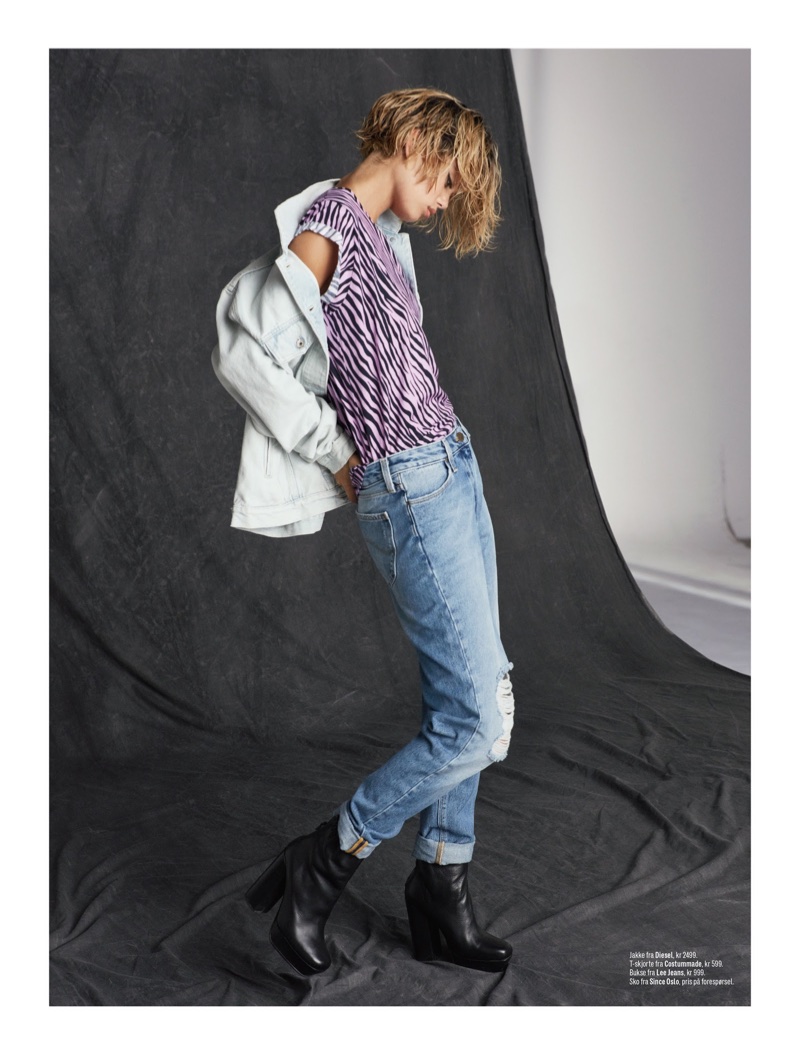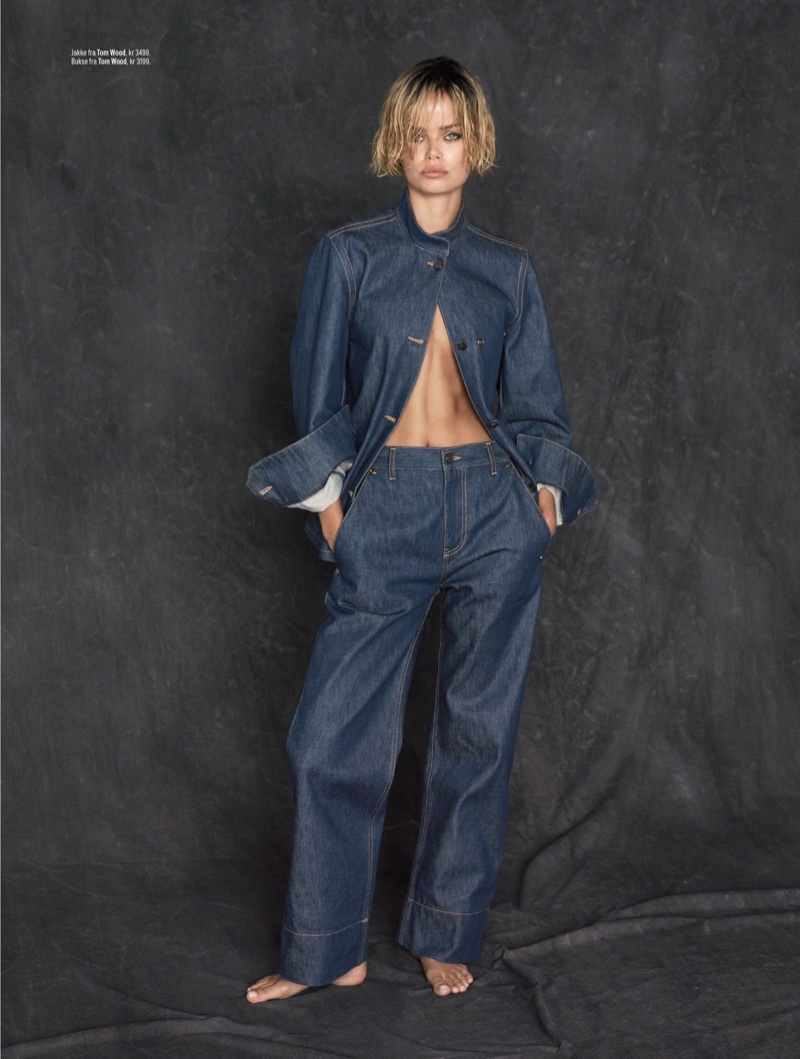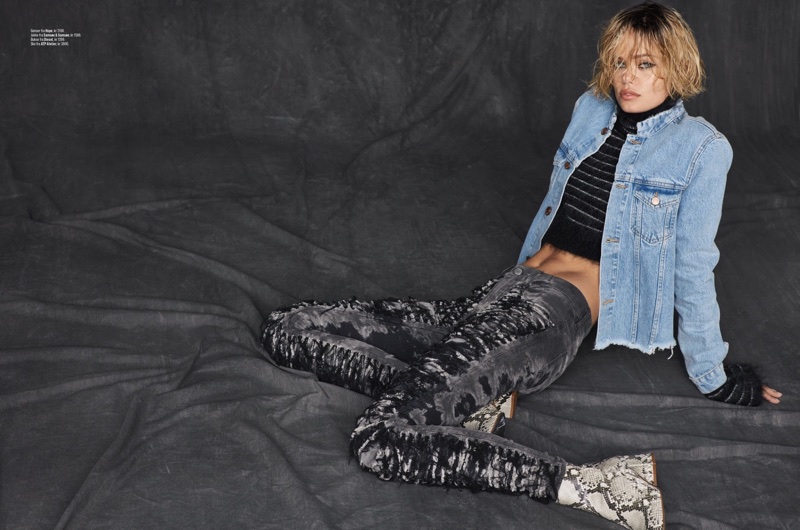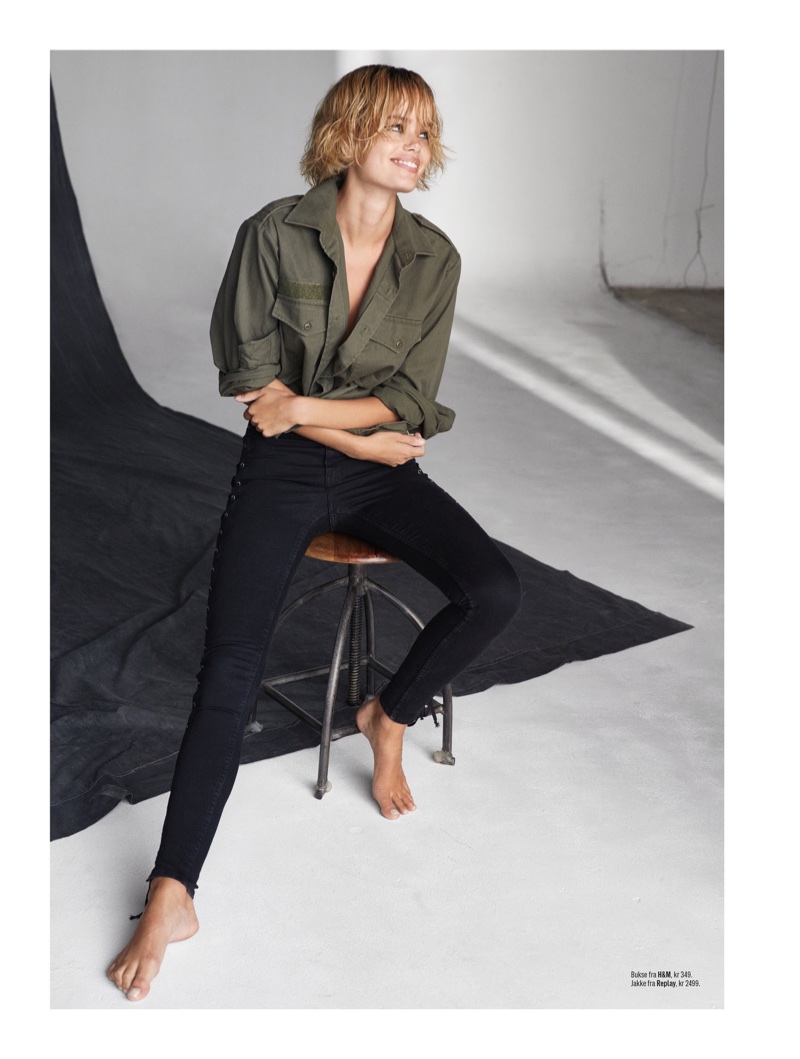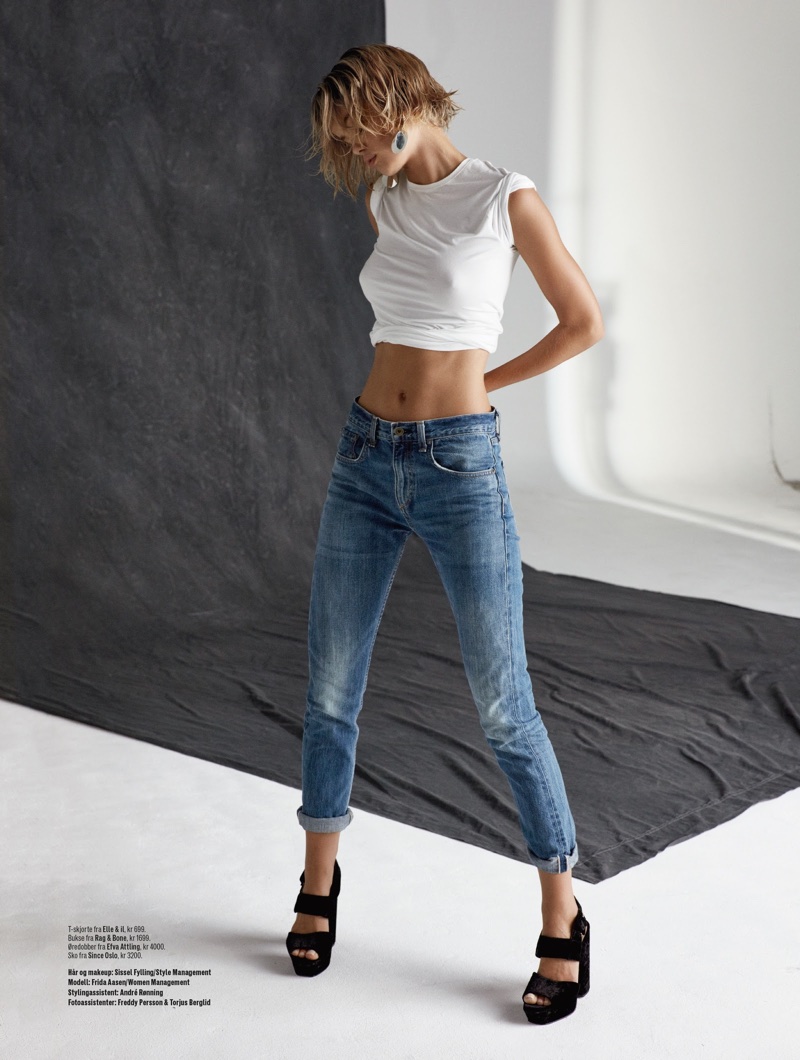 Categories

New Posts

Hot Posts